At Tacton we're always learning about our manufacturing customers. To learn more about the latest in manufacturing we've conducted our annual State of Digital Manufacturing Survey. We conducted this to better understand the priorities, pain-points and initiatives manufacturers will take in 2023 to better serve their customers.  
In order to help manufacturers, stay at the forefront of these developments, we've released this report. We're focusing on how manufacturers are building resiliency to ensure smooth end-to-end operations. Let's look at some of the highlights from the report. 
Methodology 
The results in this report are from an online survey that was fielded from November 10th to 29th, 2022. There were 200 survey respondents from North America and Europe. 74% of respondents were at the managerial or executive level.  
What best describes your manufacturing sector?
Digital transformation 
Digital transformations aren't easy, they require time, effort, trial and error. But with big challenges come big risks of lagging behind the competition. Those that are well into implementation may find it easier to handle the upcoming economic challenges by having new processes in place.
How important is digital transformation to achieving your business goals in the coming year?
2023 priorities  
We asked manufacturers when they anticipate the next U.S. recession will begin. 47% believe it has already begun and a large majority believe it will start some time in 2023. Many manufacturers are bracing for a recession in the upcoming year. 32% of manufacturers have started the process of accelerating their digital transformation efforts.
How have recent uncertain economic times impacted your digital transformation efforts?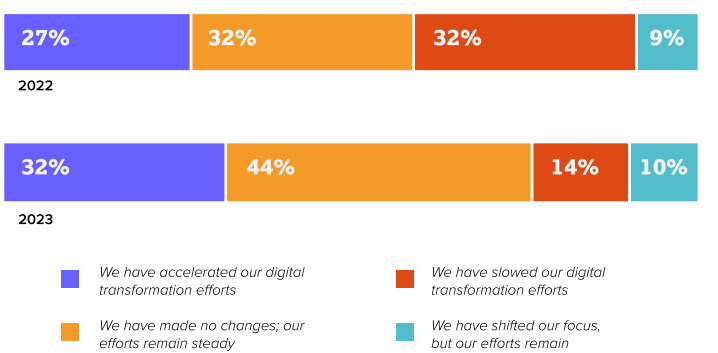 Sustainability planning 
Sustainability in manufacturing has been discussed for years. But now manufacturers are realizing that it's time to act and create easy ways to report and sell sustainably.   
Strategic agendas based on sustainability are being driven by customer demands for transparency around the products they purchase. Price is no longer the most important factor to many customers; they want to know how their product will affect the environment. Just look how much climate impact information questions have increased in the past year.  
How have requests to provide information about the environmental or climate impact of your products changed in the past year? 
With regulations and transparency requests from customers manufacturers need to find new and innovative ways to deal with these challenges. Preparing for upcoming regulations and laws is an important topic for manufacturers in 2023. 20% of the respondents we polled noted that they are extremely prepared to improve, that's up 8% from 2022.  
These regulations range from carbon neutrality to waste management and even the use of renewable energies. Measuring and managing sustainability impact will be critical for the long-term success of manufacturers. 
The next step 
Manufacturers have dealt with uncertainty, challenges and new customer demands at a rapid pace. That's why many have started their digital transformation efforts to deal with upcoming economic challenges and sustainability initiatives around the globe. Manufacturers who turn these challenges into opportunities will find new market share and drive customer loyalty. Check out the full State of Digital Manufacturing survey here to find out what other initiatives manufacturers are focusing on!