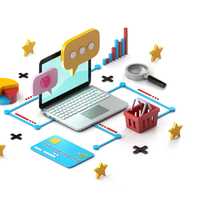 eBook: The Ultimate Guide to Visual Configuration
Creating a unique eCommerce journey starts with appealing product visualizations
While we continue to learn how to work in the new normal one thing is certain for manufacturers. Change is a constant and leveraging the right technology is crucial to improving operational efficiency and improving the customer experience. The solution that many manufacturers are missing their product portfolio is 
Visual Configuration
. It is a necessity for manufacturers looking to grow their business and enable customers to do more. Offering visual product configuration will help you stay ahead of the competition by becoming a market leader with a one-of-a-kind customer experience.
In this guide we'll discuss the basics of Visual Configuration, challenges, opportunities, and more:
What's in the eBook?
A deep dive into the visual asset creation process
Using visualization embedded in the portal to create a wow factor for customers
How CPQ and Visualization work bi-directionally for the best results
Customer use cases, real examples and more!
Enter your email to download