CPQ Software: Is My Product A Good Fit for Tacton? 
A note about the author: Brian O'Grady has worked with Tacton for over 20 years as a Sales Engineer and now as a Product Marketing Manager. Before Tacton, Brian had stops at Microsoft and RSA Security.  
In the 20 years I've worked at Tacton this is probably the question I get asked the most. As a Sales Engineer it was my task to judge the suitability of products with Tacton's configurator and our CPQ software.  
It would be nice to say that this task has gotten easier, but in many ways, it's become more difficult. 
But for all the right reasons. 
Tacton Only Handles Complex Products? 
One of the things I first learned was that it wasn't just complex products with intricate rule-systems that benefited from Tacton's technology. Of course, we love to boast of our ability to configure, price and quote large steam turbines or complex packaging lines, but I remember the customer who used Tacton to design wedding invitations.  
Sometimes quite simple products benefit greatly from using our  CPQ tools. This is because we can replace a primitive system that creates and maintains tens of thousands of simple rules with a state-of-the-art constraint-based system that uses a fraction of the rules with far less maintenance too. 
A chair manufacturer may have hundreds of materials, dozens of finishes, and many product lines; the logic may be simple but the maintenance over time as the choices change will swamp the staff and significantly delay product updates. Having a constraint-based configurator like Tacton dramatically reduces the effort and time needed to roll out new changes as they happen, providing a huge benefit to these companies.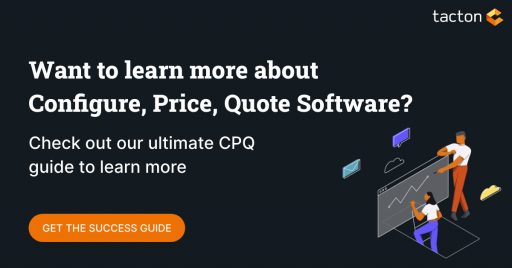 Tacton Cannot Replace My Complex In-House Processes? 
A situation that I am increasingly seeing is the use of Tacton as a kind of triage configuration tool. By this I mean a tool to give a quick rather than accurate indication of a potential solution. 
A company I spoke with recently, has quite detailed processes and tools to determine the cost of manufacturing a plastic component, with CAD design, mold costs, use of different plastics and evaluation of production runs overtime. They are not interested in replacing their existing tools but are trying to take the pressure off their engineering teams who are asked to handle an enormous number of requests for quotes. 
In these cases, Tacton can offer a best-guess evaluation tool that can give a sales rep or customer an accurate estimate of the price quickly. Even if this estimate is only accurate within a few cents of the actual cost it can be good enough to decide whether to go forward with further discussion and negotiations.  
This frees up engineering resources to focus on high probability opportunities and provides more accuracy where it will be of most benefit to both the customer and their own company.  
It's All About Configuration Right? 
With the increasing adoption of CPQ software as a standard tool used by companies to support internal and external sales channels and our enablement of customer self-service portals and B2C eCommerce sites, the task of judging who will benefit from Tacton has gotten harder. 
Tacton CPQ tool allows companies to handle not just product complexity but also handle complex sales. Our support for complex pricing, approvals and integrations to legacy systems means that it may be the streamlined way Tacton handles quotes and business processes rather than any logical requirements of the products themselves that is key benefit provided.  
The relatively recent launch of our real-time 3D visualization software and augmented reality capabilities will make things even more interesting. Now the deciding factor to use Tacton's tools may be the way we allow customers to see what they're ordering, place it into their own environment and interact directly with the 3D representation that could be the deciding factor to use our tools.  
"In 2018, the CPQ market grew by 12.4% to an estimated $1.2 billion (Gartner)." So, don't be surprised by the large variety of customer logos appearing on the Tacton website. The range of applications for advanced CPQ software is only going to get larger.  
CPQ Software: Is my product a good fit is a question your competition is asking us. Are you ready to find out the answer as well?
With that in mind, it's time to get in contact with us and schedule your demo to learn how Tacton can support your company.