The cost of a bad customer experience is more costly than you think
The customer journey can be a long, winding road from the first contact to a final sale. Optimizing this experience has come easy for some industries, but manufacturers still struggle with providing a fast, accurate, and sustainable approach. Sacrificing a good experience can cause customers to leave or manufacturers to give big discounts just to keep customers around. Let's take a deep dive into what customer experience is, and how to avoid a bad one.  
What is customer experience?  
A great Hubspot definition: Customer experience is the impression your customers have of your brand throughout all aspects of the buyer's journey. It results in their view of your brand and impacts factors related to your bottom-line including revenue.  
This includes every touchpoint with your team, from marketing, sales, engineering, and the factory floor. Every interaction leads to the customer perception and relationship with your unique business. To sum it up, a great customer experience is integral to the continued growth of any company. A bad experience will have customers leaving for cheaper options, while a good one keeps customers loyal and coming back for more.  
How important is customer experience to manufacturers?  
The COVID-19 pandemic has made many manufacturers rethink how they interact not only internally, but with customers as well with a renewed focus on digital transformation. When we asked C-level, vice presidents, and directors of manufacturing operations about the most important strategic areas to remain competitive and bolster economic growth, the customer experience was an important aspect.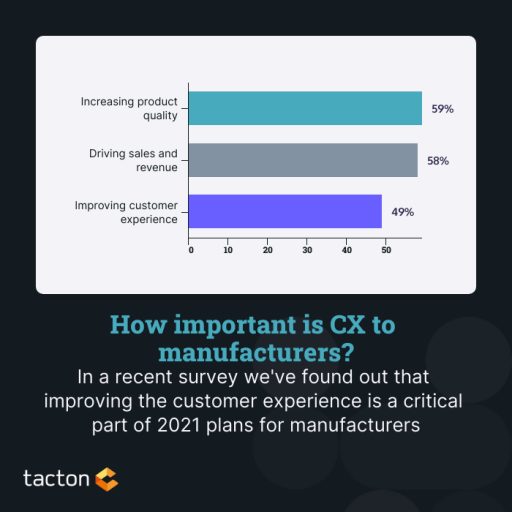 When asked, "Most important strategic areas to remain competitive and bolster economic growth". Read more on the survey here 
With 49% of respondents noting the importance of customer experience it's time manufacturers begin taking a deep look at how to improve this aspect of their digital transformation. Driving sales and revenue is directly impacted by the customer experience.  
What are some common challenges in creating a great CX for manufacturing customers? 
Outdated technology- 

Many manufacturers are still relying on outdated tech to provide products, quotes, and delivery. Some aren't even offering an online self-service option to buy products which is where more and more buyers are at. 

 

Inefficient processes

: This comes with using outdated technology, quoting is a long, error-prone process that leaves the customer annoyed and your sales and engineering teams scrambling to offer discounts to make sure customers don't go to the competition.

 

No omnichannel strategy

: Let's face it if you aren't offering an online way to buy products, with multiple touchpoints you'll lose to the competition who can. The modern buyer wants products fast, error-free without talking with your sales staff. This sounds like a bad thing at first but enabling an online store will help your sales team focus on bigger deals while leaving smaller ones to configure their products online and help when needed.

 
What is the cost of a bad experience?  
A bad customer experience has a direct impact on your bottom line. According to PWC: "Even if people love your company or product, in the U.S. 59% will walk away after several bad experiences, 17% after just one bad experience."  
Losing these customers can be the difference between rapid growth and a slow decline in your profits. So, making sure every experience is fast, accurate, and exciting will go a long way in growing your business. Loyalty goes a long way in creating predictable, recurring revenue making it important to really understand your customers' wants and needs.  
A bad reputation 
Think about the last time you purchased something, shoes, clothes, anything. If you weren't buying from a place you've bought from before you more than likely read reviews on the company to see if the products were worth getting. With so many options it's a necessity to give a good experience, with customers telling more than 15 people of a bad experience word travels fast and profit can decrease.  
New buyers require new solutions 
The race to reinvent the manufacturing customer experience is on and has been accelerated in the past year, causing industry leaders to consider new solutions to keep up. Delivering a one-of-a-kind experience for customers and keeping a healthy bottom line sounds too good to be true? It's not when using Configure, Price, Quote (CPQ) software. Let's take a lot at what CPQ is and how it improves the customer experience.  
What is CPQ? 
CPQ platforms help manufacturers use self-service, guided (and remote) selling to accurately configure complex products and services for prospective customers. CPQ solutions help manufacturers ensure correct pricing, deliver personalized and highly customized quotes. CPQ also seamlessly integrates into eCommerce, CRM, CAD software, and more a smooth buying and selling process.  
How does CPQ create a great customer experience?  
Speed counts with CPQ  
Today's buyers simply won't wait for a quote on your products anymore. They want to know exactly what they will get ASAP. Making configuration and pricing choices in used to take manufacturers days, with CPQ it only takes minutes. Even complex quotes can be created faster than ever.  
Accuracy 
CPQ captures the customer's usage and commercial needs, and the configuration engine does the rest. Everything is considered – your latest product and pricing updates, local regulations, as well as your margin requirements. The software can find the solution that best matches the customer's needs and your business goals. With advanced pricing models and built-in approval workflows, your team will position and sell the right product at the right price – every time.  
Accurate, high-quality proposals with supporting documentation are generated automatically. This speeds up the quotation process dramatically, keeping you one step ahead of the competition. 
Meet customers anywhere 
Buyers are used to being able to buy from anywhere, at any time. Providing an eCommerce experience for manufacturers of highly complex products is a nearly impossible task without CPQ. Enabling customers to configure directly on your company website with Guided Selling lets your customers see what products are feasible fast. Giving them self-service options also enables customers to check out quickly and get their products without interacting with anyone.  
Visuals 
Many of our manufacturing customers have found ways to shift to an online journey, and they all share one secret, visual configuration. Visual configuration is the combined use of Augmented Reality, 2D, and 3D visualization software in order to be able to configure products fast, and accurately for customers and prospects.  
The new customer experience demands visuals of the product, no one is buying products sight unseen in 2021. With these visuals your customer isn't left with any question marks when they see what their final product will look like, even configured in their real-life environment.  
What is an example of how CPQ improving speed and accuracy? 
One of our CPQ customers, Siemens had a challenge: Creating each of their highly complex and customizable turbines to their customers' specific needs. Quoting took on average 8 weeks, requiring specialist engineers for every sales case. Proposals were over 500 pages long and Siemens lacked the ability to quote long-term maintenance costs resulting in poor aftersales services.  
With Tacton, Siemens was able to redefine how their sales team configured, priced, and sold their products. Using CPQ enabled them to reduce quote time from 8 weeks to 10 minutes. Leaving the sales team to focus more on customer relationships. Engineers were able to refocus on research and development and jump into only the most complex sales cases. Finally, the shorter sales cycle increased the capacity for sales to find and engage with new prospects.  
In closing 
Your customers' demands have changed and will continue to as customization becomes the norm for nearly every purchase. Customers also want technology that improves how they get their products, with speed, accuracy, convince, and even visuals. Calculating the cost of a bad customer experience shows just how much a change is needed for manufacturers. 
Manufacturing has been looking for the next solution that will enable them to provide a better eCommerce and customer experience. CPQ software is the solution that is bringing many manufacturers into these new and exciting spaces. With CPQ it's possible to connect every process, from the start of the customer journey all the way to purchase. At Tacton we have over 20 years of experience working with the biggest manufacturers in the world helping them transform their processes. Check out some of our customer stories such as Plus Pack, nVent and Pelco.  
Interested in learning more? Book your demo today!