Not familiar with CPQ tools? A starting point for digital transformation:
Configure Price Quote (CPQ) tools help manufacturers sell highly configurable products faster and more efficiently. Whether it be direct, partner, or extended online as a customer self-service sales tool, guided (and remote) selling enable anyone to accurately configure complex products and services for prospective customers. CPQ tools help manufacturers ensure correct pricing, deliver personalized and highly customized quotes, and massively reduce the time it takes a salesperson to create a proposal using spreadsheets or other homegrown tools. So Where does CPQ fit into your system architecture?
Manufacturers who choose to implement CPQ tools as part of their digital transformation strategy often find themselves asking how they can fit a new solution in an already existing framework of Customer Relation Management (CRM), Enterprise Resource Planning (ERP), and even eCommerce solutions. A system landscape is a bit like a puzzle that without a clear framework can seem difficult to solve, but once every piece is put correctly into place can be something organizations can see results from quickly. With the massive shift due to COVID-19 manufacturers have learned just how critical it is to find products that can transform operations and work seamlessly within existing business-critical systems.
Fit the pieces together
Creating a harmonious landscape is easier said than done. Without proper thought about how the pieces fit together adopting CPQ tools can become a fools' errand. That's why defining how each piece of the landscape puzzle will fit together can give answers to use which product and when. When implemented in your tech stack, CPQ provides the single source of data truth for the entire organization to operate on, regardless of the system they use. While CPQ is the foundational component for manufacturers to sell configurable products, it's the integrations into the front and back-office systems that truly enable operational efficiency and a seamless customer experience.
The shift from B2B to B2C requires eCommerce for manufacturers
Manufacturers have long created a B2B experience for their customers, focusing on product logic and its features. While this has worked in the past with the analytical buyer focusing on the core competencies of the product. This leads to a long, slow buying journey that would take time to complete a purchase. The rise of companies like Amazon has made customers less likely to wait for satisfaction, they want to know the benefits of your products in seconds, not days or weeks. B2B customers are behaving like B2C customers meaning they want products fast, accurately, visually, and across channels. They refuse to wait for your long sales pitch. Even after the purchase, to keep customers coming back manufacturers must give an excellent omnichannel eCommerce experience.
CPQ is a simple way to execute your eCommerce journey. Embedding a product configurator with visualization right on your website will show how simple and easy it is to get their manufacturing product, no matter the complexity. This is a chance to win on two fronts in the battle for customer engagement. First, customers can configure their product down to the smallest detail without the help of your sales team then request a quote or add to the shopping cart using self-service integrations to buy from anywhere. Self-service creates a shortcut for your customers. Giving both customer and seller a head start on configuration makes the negotiation process easier. This information will be quickly relayed to your CRM systems. Using a CPQ system integrated into an eCommerce platform puts the power of product configuration in the hands of customers, it's only the beginning of a seamless connected journey.
Driving leads with CRM
From Salesforce to Microsoft Dynamics, CRM systems are the first step in creating a centralized customer experience in manufacturing. Your sales team and marketing team is always hard at work driving leads that can be used to build segmented target audiences. The audiences become relationships that are nurtured and analyzed by creating a robust tracking system.
Once these prospects become interested in your product, they usually always ask for an RFP (request for proposal) based on their product portfolio and provided data.
Often enterprise manufacturers can be slow to adopt digital tools or even know where to start. A CRM is necessary for managing leads, opportunities, and customer contact, but it does not have the functionality required for managing the complex, customized products and services manufacturers sell.
While CRM transforms the way a company sells, a CPQ tool integrated with CRM is required for efficiently selling configurable products. In fact, the recommendation for companies selling industrial products is to implement both at the same time if possible. This avoids the challenges of changing the selling process multiple times within a digital transformation.
Sub-workflow solutioning with CPQ
Now that you've passed the first test of getting a customer excited about your product and they give you data to create products it's important to utilize a CPQ tool to get a quote quickly back to the customer.
Before CPQ it would take days and weeks of back and forth between your sales and engineering teams to create a first quote, let alone an accurate one. CPQ is easy enough to use that anyone can create an accurate foundation for a customer quote. The solutioning is done in a way inside the CPQ tool to create the optimal product based on the needs of the customer. Optimizing a quote for a customer can seem difficult, but it's easier than ever to do this using guided selling that reviews every answer given and gives them only products that are fully optimized to their needs. Guided selling enables anyone to generate a quote based only on needs and requires no technical knowledge.
Once you and your customer have agreed to a configuration with a customer, it's even possible to create dynamic proposals with CPQ. This proposal can be uploaded prior to reflect your branding or even a configuration that's been proposed and accepted before.
Creating these quotes opens a dialogue with customers that have been difficult in the past. Manufacturing customers have had to go through incorrect quotes, spreadsheets, and text-based descriptions to get a final product. CPQ can go beyond an initial configuration and quote. Showing them how the product will look with realistic visual configuration ensures your customer, sales, and engineering teams are all aligned based on the expectations of products while reducing costly miscommunications.
These quotes can include custom CAD drawings directly from Design Automation. This can be done even without involvement from your CAD engineers with a connection directly from CPQ. Ensure detailed 2D and 3D designs of configured products straight from your CAD system. Reducing order errors, automatically generating configuration-specific drawings will keep the front of the house and back of the house happy.
More on CAD
CPQ and CAD automation work together by providing knowledge from your engineering team to your sales without having to go through constant meetings and emails. This happens by codeveloping product logic between your engineers and CPQ. Codifying product logic and validating it with info from CPQ.
This enables your sales rep to sell what your engineers can create because it was co-developed with your engineering team. Eliminating guesswork.  Needs-based guided selling meets engineering​ to dynamically generate 3D CAD models based on customer configuration requirements​ This empowers sales reps to generate CAD drawings without help from engineering.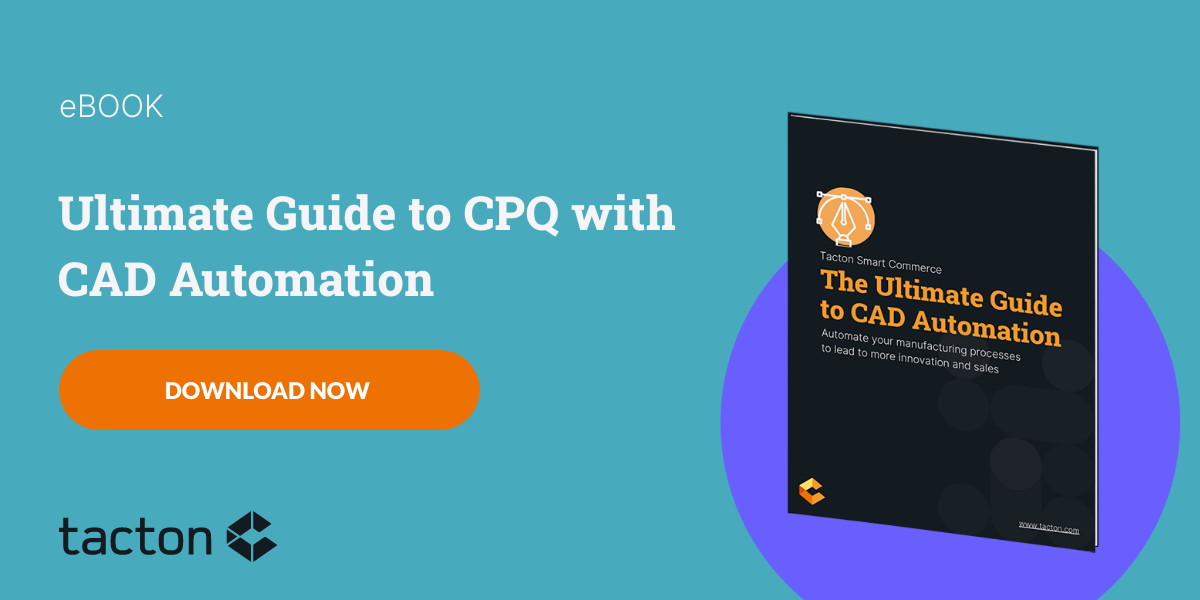 A quick stop back into your CRM systems
With the solutioning complete in the CPQ tool your sales team can quickly export the result, including a proposal document, into your CRM software. Using built-in functionality such as Salesforce and Dynamics (or any CRM) with the information from the CPQ can make it easier to report while creating follow-ups options as well as forecasting future opportunities.
The final piece: Order fulfillment
Your sales rep is excited as ever to have just closed a deal faster with CPQ and CRM connected but one more important connection remains, order fulfillment. The customer and your sales rep know what they want, now it's time to deliver. Creating the optimal solution requires an equal data and pricing structure that uses the segmented data from your CRM to create market-based pricing. This is where your ERP system is fed critical information from Tacton CPQ. The ERP system then will plan the production, ensure the delivery and send an invoice to the customer.
Manage product variance
A great example of managing product variance is with our integration to SAP Variant Configurator (VC). Tacton can leverage the product data and configuration rules from SAP ERP and SAP VC to deliver accurate, up-to-date pricing, bundling, and product configuration information to sales teams, partners and end customers.
IT administrators can spend their working hours transferring data on materials, BOMs, pricing, and more from SAP to CPQ. Resource-inefficient implementations require custom code developed by programmers to convert extracted data into formats that can be imported to the CPQ tool.
As a result, any changes an SAP administrator makes will probably require additional maintenance (at a high cost, of course). But with Tacton the sales configuration data is extracted and translated from SAP VC models on a frequent, scheduled basis, eliminating these problems.
Allowing Tacton CPQ to configure the modules and SAP VC to cater to the modules on a manufacturing level for production. Let SAP VC handle the production and Tacton CPQ to be responsible how modules are selected.
Here's how it works from your customers point of view. Product inventory, capacity, and available-to-promise from SAP ERP are made available to the quoting screens in your CPQ tool. After this is done, your opportunities and quotes are created in CPQ and pushed to SAP sales order management. Finally, to complete the order to fulfillment process, you process and ship your orders, invoice them and collect payments within SAP. The entire process is completed when inventory is updated and made available to the CPQ tool for the next quoting cycle.
A connected loop
You know the acronyms, CRM, CPQ, and ERP very well and now understand the importance of an eCommerce integration. When working separately can be very useful for helping your manufacturing customer succeed. Once they are combined, they can be the basis of a digital transformation for your company. Connecting everyone in your operation from the first person to contact prospects to the person who sees it roll off the assembly line can create a place for centralized operations. CPQ is the mortar that binds your CRM and ERP systems together.
Connecting all these processes will also enable your business to go fully online with eCommerce as well. Embedding an online configurator with self-service can help manufacturers reach go even further. The customer can start the solutioning journey online even before involving any sales rep. With a needs-based selling approach, the customer can express their needs and get a solution accordingly. Your customer gets involved and can fill their shopping cart with products that fit their needs. Once all these items are combined your business will be the envy of the industry.
Leverage your digitalization investments with CPQ
Sales and Marketing use their investments to engage customers, manage relationships, and ensure they are acquiring relevant data. Engineering investments ensure they have proper product data, technical drawings with CAD, and have the proper information to manage the product life cycle.
The factory makes investments to support supply chain, execution, and efficiently building products. The wealth of data across these investments is absolutely critical to internal efficiency and external customer experience. Placing a smart CPQ system at the center of your digital transformation is the most efficient strategy to build a technical stack that connects your end-to-end processes. 

Learn more about the current state of digital manufacturing with survey results
CPQ is the future proof solution you've been looking for
COVID-19 has illuminated a lot of issues in manufacturing, one of which is disconnected systems that slow down how manufacturers sell. Your customers aren't coming back into the showroom anytime soon. Finding ways to still work seamlessly, and accurately with customers can make the difference between winning and losing deals. Right now, is the perfect time to focus on reinventing the buying journey for your customers while improving internal operations from sales to the factory floor.
Learn more about Tacton on our LinkedIn page!